There's a saying about being comfortable in one's own on skin.  Recently, this saying took on a new meaning for me.  Last year, I became the delighted owner of a Missouri Fox Trotter named Button.  She was born in Missouri, so every winter she grows a coat worthy of the cold cruel Midwest winter winds; she is quite cozy here in Tucson's cool winter weather.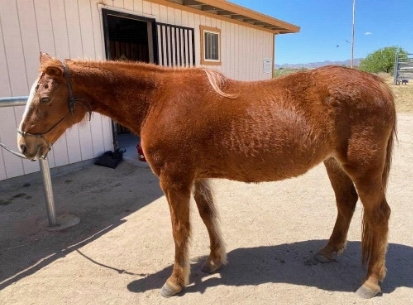 Come spring, Button would shed the massive amount of hair down to her more comfortable summer thin coat.  This spring, however, she didn't shed sufficiently. Temperatures were in the 80s with 90s being forecast. Our workouts left her "sopping" wet with sweat.  Action needed to be taken.
I noticed that one of the other horses had been shaved by a local groomer. She'd done a lovely job, leaving the horse's coat smooth. No razor ridges like I would create. I gave her a call, scheduled Button's hair appointment and off the thick winter coat came. It was like watching a sheep being sheared! I expected her to be a bright shiny copper penny color underneath but she looks more bronze to me. She is now much more comfortable temperature-wise, but I wondered if she would miss her hair.
After a day of multiple rolls in the dirt, I think Button is now truly comfortable in her own skin.
And now, being comfortable in my own skin, it's back to to stories I go! To see my science-based and fun adventure tales and rhyming stories, please go to the My Books page.