Fire can be a wonderful or terrify thing. In many ecosystems, fires are important for keeping them healthy. These are low intensity fires that clear the ground of brush and scrub. However, invasive plant species like buffelgrass cause fires to burn hotter destroying the ecosystem, instead of nurturing it.
May and June in the Sonoran Desert are high fire periods. This is the dry season between the winter rains and summer monsoons. Plants dry, grass turns brown. It is very easy to accidentally start a fire, so open fires are restricted. Sudden, heat-generated storms are produced, containing a lot of lightning, and nature uses the lightning to ignite fires during this time.
One such storm ignited the dry vegetation on Pusch Ridge, near my home, on June 5. Pusch Ridge is in the Santa Catalina Mountains, north of Tucson, AZ. The three peaks are between 5,000 to 6,000 feet high. At the lower elevations are the iconic saguaro cactus, while juniper and pines are found higher.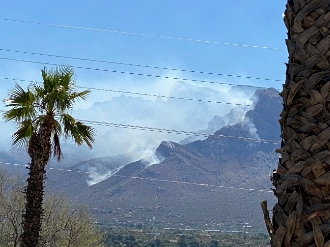 Natural low-intensity fires clear out the ground debris allowing for new growth that support animals, such as bighorn sheep. Unfortunately, the introduction of invasive plants, like buffel grass, have changed the nature of the fires. The dried invasive plants fuel much larger, higher intensity fires, resulting in the destruction of the ecosystem instead of enhancing it.
Sadly, the Bighorn Fire on Pusch Ridge is one of the destructive fires. This destruction is the results of man's altering of the environment. Buffel grass was introduced for erosion control and cattle forage. The buffel grass thrived and forced out the natural plants. Buffel grass-fueled fires also destroy buildings.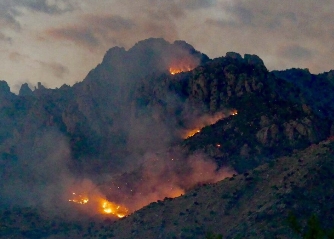 The fire is still raging today. According to The Arizona Daily Star, "Firefighters spent most of Sunday strengthening fire lines in the Summerhaven area and burning down the ridge line north of the town as they continued to fight the 58,500-acre Bighorn Fire," officials said. 950 people are fighting the fire that is about 16% contained.
It is hoped that some of the areas will be able to rejuvenate with native species, but the loss may be irreparable or last for many years. Unfortunately, humankind has never been able to quickly stop its destructive behaviors.
NOTE: Staying indoors with children? Check out my science-based, fun and educational books; and the science workbooks and activity sheets at Lyric Power Publishing, LLC.